Material Handling Equipment Since 1985
4901 Ellison St N.E.
Albuquerque, NM 87109
Phone: 505.345.4120
Fax: 505-345-4888
Store Hours: 8 am to 5 pm - Monday thru Friday
4901 Ellison St N.E.
Albuquerque, NM 87109
Fax: 505.345.4888
Store Hours: 8 am to 5 pm - Monday thru Friday

Nutting Platform Truck design options.
Hardwood Deck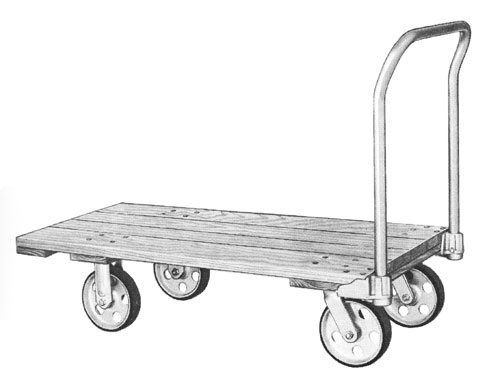 Steel or Aluminum Deck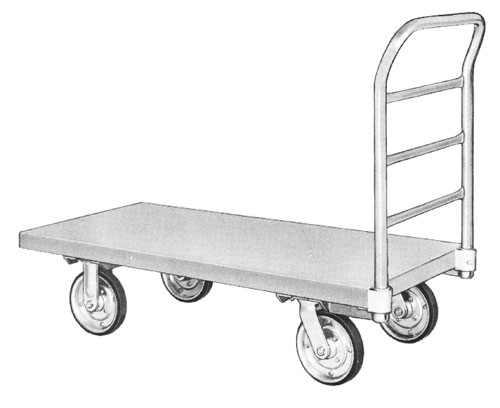 SUPERSTRUCTURES:

Truckload
Determine the weight of your maximum load. Choose according to capacity specifications shown.
If you anticipate the truck will be subject to shock when the load is placed, or the truck will be subjected to severe operating conditions, choose a truck with higher capacity than would be determined by the load weight alone.
A choice of larger diameter wheels will also make a fully loaded truck easier if operated on a rough or littered floor.
Truck Design & Size
General utility is a feature of floor trucks. Certain trucks, however, work best for certain loads, operating conditions, and available space. When you make your design and size choices, keep in mind required clearance for aisles, doors, elevators and other factors related to working conditions.
Floors & Floor Condition
Rubber tired, plastic or polyurethane wheels are recommended for protection of floors.
If your floors are littered with metal chips or other highly abrasive material that will cut rubber, semi-steel or tough plastic wheels are recommended. Semi-steel wheels are noisier, however, and may cause floor wear in certain instances.
DECK CAPACITY IS BASED ON CASTER SELECTION:
Vulcanized Rubber Tread MR
Floor protective cushioned rubber tread permanently vulcanized to a semi-steel core is recommended for quite movement with heavy loads. Load capacity is 240 to 1000 lbs. each.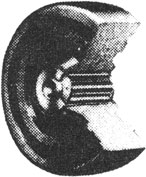 Plaskite TM
Phenolic resin compound reinforced with macerated fabric makes a high-strength, high-impact wheel resistant to oil, gasoline, dilute acids. Non-marking. Capacity is 300 to 1500 lbs.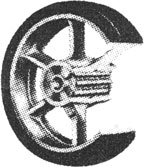 Duro-Tred Vulcanized PY
Polyurethane tread vulcanized to metal core delivers a cushioned ride, excellent mobility and extended life with extremely heavy loads. Also available with mechanically bonded polyurethane tire on an aluminum alloy core. Capacity is 480 to 2000 lbs.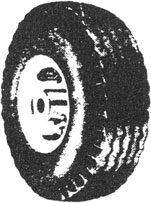 Pneumatic PN
More delicate loads smoothly and safely over rough bumpy surfaces with Air Faultless pneumatic wheel casters. Designed to absorb shock and vibration caused by floor obstructions or outdoor terrains. Capacity is 310 to 650 lbs.